What is Commercial Cleaning?
Before we get started with the analysis of what's what, it is important to have a clear conception of what constitutes commercial cleaning. It is also different from other types of residential or domestic cleaning.
Commercial cleaning is the cleaning carried out by cleaning organizations for large spaces that include hospitals, schools, offices, cleanrooms as well as commercial kitchens, and industrial plants. The cleaning is undertaken by companies that employ workers who specialize in providing these services. Their main objective is to sanitize these locations. The team of specialists in these organizations makes use of specialized cleaning technologies to oblige to the given standards of sanitization or adhere to remedial or cleanroom requirements.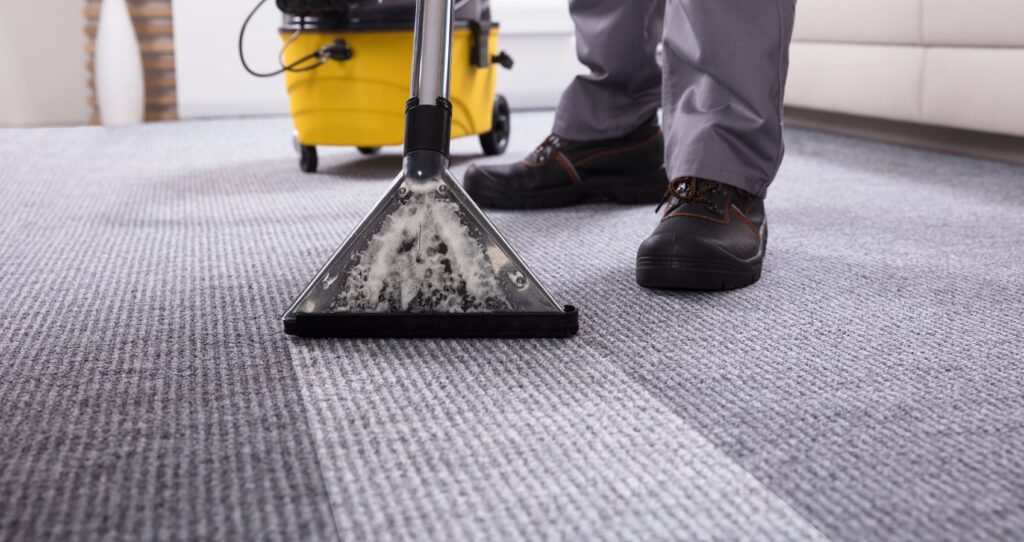 Commercial cleaning is not an ordinary cleaning service like that of a house, it requires skilled workers and special equipment to be undertaken over a larger area. This means that commercial organizations need to be authorized or licensed for undertaking such strenuous tasks. In commercial buildings like hotels and healthcare centers, it is rather imperative to have and maintain an excellent standard of cleanliness.
A spick and span impression no only helps in building a healthy work atmosphere but also promises trust to the people who walk in for the very first time, for the organizations are the face map of how businesses idealize. This service should be undertaken in environments where greater skill and technical knowledge is required to attain safety parameters for the staff and visitors. Since the technicalities involved are massive, these acts must be undertaken under proper guidance and knowledge.
What are the Essentials of Commercial Cleaning?
As discussed, commercial cleaning requires a special set of employees as well as machinery to undertake the task of cleaning massive spaces. Thus, it is important to have knowledge of all the materials and chemicals that are used in such cleaning services. The scope of commercial cleaning involves mainly routine and general cleaning. This includes cleaning tiles, floors, internal walls, partition walls, lighting, suspended ceilings, window cleaning, dining and kitchen, washing facilities, and more. A full home deep cleaning involves all the regular maintenance activities too.
External cleaning involves picking up litter, removing paint and graffiti. Such activities also include hot water extracted carpet cleaning which is usually performed every 1 to 2 years. The equipment required to facilitate cleaning for commercial businesses also involves contracts providing for consumables like towels, toilet rolls, liquid soaps, bin liners, etc. 
Checklist of Services
Every organization has a specific set of requirements regarding their cleaning standards and work environment. Given that an average employee spends more than 8 hours in an office building, it is important that every detail be met with care and assistance, without endangering the health of any. While hiring any cleaning service provider, a company must look into the checklist of services they provide so as to see if they fit into the sanitization standards. Contracts must include specifications regarding different types of expected cleaning. For example, the equipment and chemicals used in a healthcare organization may not be used in the cleanup of hotels.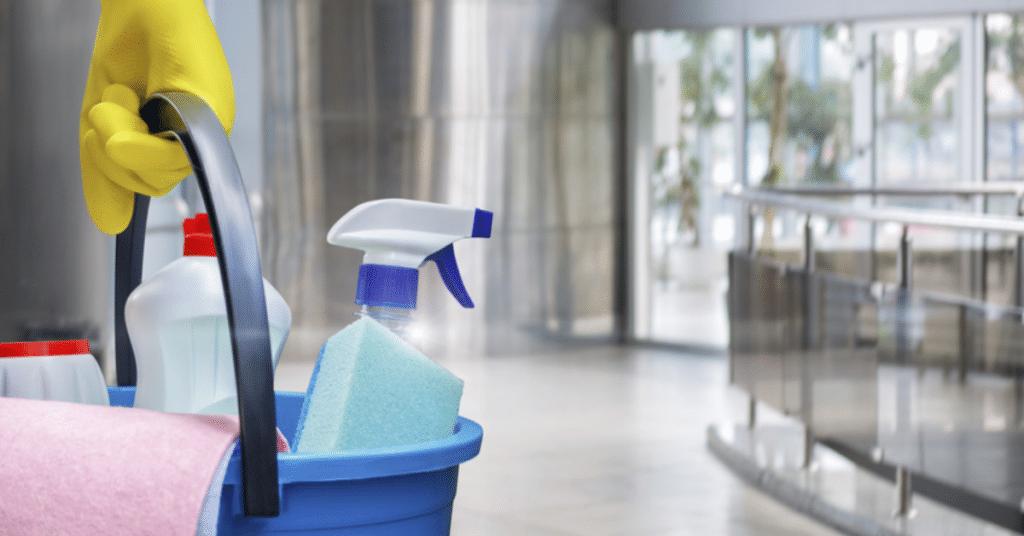 Some of these basic, routine cleaning services include –
Vacuuming hard floors
Vacuuming mats and carpets
Emptying waste bins and replacing liners
Collecting garbage, bottles, plastic, etc. from the entrance gate
Removing fingerprints and marks from door frames and light switches
Wiping all internal glass
Spot cleaning painted surfaces and walls
Wiping all horizontal surfaces with a damp cloth of chairs, tables, and other types of furniture
Polish brass and brightwork on cabinets and doors
Cleaning automatic glass doors inside and out
Mopping hard floors using disinfectants
Removing cobwebs from everywhere
Dusting all the horizontal surfaces of all types of furniture
Ensuring all areas are cleaned and arranged neatly
Some of the checklist services while cleaning bathroom and kitchen room include –
Mopping the floors with disinfectants
Collecting garbage from everywhere
Dusting top of mirrors and frames
Cleaning sinks and polishing all the bright work
All urinals and toilets should be disinfected from both sides and wiped dry
Stocking facial tissues, toilet paper and hand towels
Removing splash marks from sinks and partitions
Cleaning elevators and stairs
Emptying trash receptacles and wiping them as needed
The different regions of work require different details that have to be taken into consideration while cleaning.
The new surge of cleaning standards – in the eyes of the pandemic
The cleaning business has always been a particular task to undertake especially in an environment where the infestation of fatal diseases has taken over. With time, the standards of sanitization have changed as the pandemic continues to leap. This calls for cleaning companies to review their objectives and methods in order to facilitate optimum shield against covid-19. Cleaning services have seen a boom with regard to the disinfecting of the environment.
In the light of such circumstances, it is easier to be confused by the number of techniques available in the market or the standards one should set in order to ensure a protective environment. What used to be clean before may fall below the hygienic standard of a company or even a household. Many companies, in India as well as in the West, have undertaken changes in the way they function to make their customers and associates more comfortable in their spaces.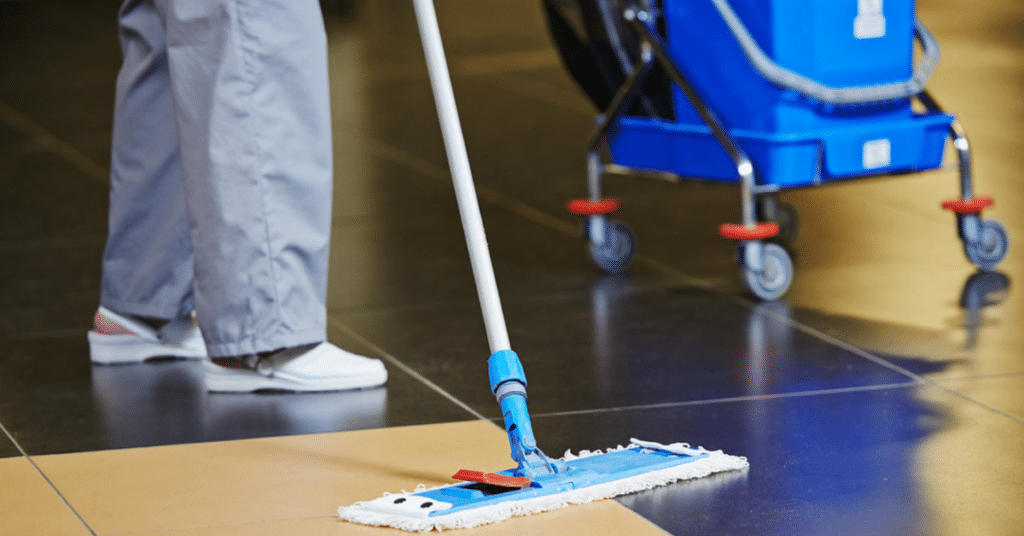 But before making any progress handing over the health of members in the hands of such cleaning service experts, there are a few things you should EXPECT in the light of the current scenario. Be it a full home deep cleaning, or the lobby of a hotel, we believe that customers find service providers who are no short of providing the following deliverables –
Customized cleaning services – Since coronavirus is highly contagious, it matters that the cleaning service you employ is well versed with the optimum use of disinfectants in order to make surroundings safe. The virus sits on some material longer than the other, therefore, absolute care in detailing and decentralizing is necessary as per the requirements of any company. To further elaborate, each set or industry or household involves different structure, maintenance as well as hygiene quotient. The alarming issue of cleanliness in public spaces like hospitals, restaurants as well as the hotel industry gathers more attention in such conditions. Thus, it is natural to deploy different services.
The high traffic areas, like receptions, pharma counters, take away areas along with the surfaces that need to be tended to.

Use of PPE – The increasing threat to life applies to both the workers as well as the consumers. This makes it compulsory for every worker to be trained in waring PPE kits, which include gloves, masks, eye wears, and the shield. This narrows the risk of transmission. It also ensures that there is absolutely no hassle in the working progress while the workers commit to making the environment risk-free. It is mandated by the law that the instructions issued by the Health Department are complied with under all circumstances. There should be no discrepancy in following these given terms.

Social Distancing – The norms of social distancing should be maintained by the workers at all times. The number of workers on a floor or the same section of the unit should be numbered to avoid crowding as this can put the lives of many in danger. The safe distancing will help in efficient working as well as the customers can rest assured. If the organization has already made a contract with a cleaning service, it is required to ask for these necessary changes in order to comply with the hazardous condition.
It is indefinitely true other than some peculiar changes due to the current pandemic situation, the other deliverables should be guaranteed by the services as per what they'd promised. To check these standards, the companies must ensure and monitor that these requisites are being met on a daily basis. If required there can be steps taken in order to provide extra cushion to the working after making amends in the contract.
Using Advanced Machinery – The world after the pandemic will be a place where hygiene and sanitization would be the primary concerns of all industries and sectors. It is important to take these steps in order to ensure free flow of the economy as well as well being of the citizens. Use of advanced technology is necessary to automate manual labor and cut down the scope of crowding as much as possible, to the minimum.
This machinery will not only help in increasing work efficiency but will provide better results in less time.
Increasing Janitorial Staff – If the problem of not delivering the promised output arises due to the dearth in the workforce, janitorial staff can be increased in order to cover all the aspects of general and routine cleaning. However, it is also important to fix shifts so that the conditions of social distancing are not compromised upon. It also increases specialization and decreases the time taken when experts work at regular intervals using special techniques. It helps maintain the decorum amongst staff and the workers.
Working Ethics – The working of service providers to undertake various cleaning jobs should not be disrupting the work environment or bothering clients and staff. The work needs to be done effortlessly within the given time frame in order to maintain a disciplined routine. Consider, for example, while checking in at hotel reception, the guest cannot walk across the room due to wet floors, or worse, slips upon a wet tile. These unwanted delays create the impression of lousy management.
Harmony in Business – The competition in the commercial cleaning industry is fierce, although the workers may end up being on the lower end of the pay scale. It is important for organizations to make valid contracts with such outsourcing companies in order to honor the labor laws of the country.
Workers tend to form unions in order to demand higher wages. However, this should not disrupt the overall peace with workers going on strike or march protests in order to get paid fairly. These things must be taken care of on the end of the employer.
Some countries, like the United States, also encourage checks for any criminal background before employment.
The chemicals used by industries for cleaning now are not hazardous but rather environmentally friendly. They do not have strong fumes. It helps in ensuring that facilities are safe to use. One should always ensure that the required SAFETY MEASURES are also being taken into consideration before the use of such hard equipment or dangerous process. The area of greater vulnerability should be dealt in with caution. Organizations should also maintain a checklist of requirements to be monitored while the cleaning companies should take responsibility for all the material required for the same. Backup should be provided and there should be a cordial relationship between the parent company as well as the service provider.
THE NEW NORMAL
Companies should understand that the future holds the same level of precaution and hygiene quotient as they are practicing after the wave of the pandemic. Contracts with hiring agencies should be made only after sanctioning the standards of cleanliness. Businesses need to demonstrate a significant difference in the way they would carry out the sanitization process.  The new normal should be brought with the second phase in the commercial cleaning business.