The skin is the largest organ in the human body and by far the most exposed to internal and external environments. This makes it vulnerable to an extent where if you do not make conscious efforts to keep it healthy, you might witness skin damage at an early age. This is one of the reasons why influencers, health professionals like dermatologists, as well as your mother, are constantly asking you to make sure you treat your body right. It is easy to fall prey to beauty products and try to transform yourself into someone your body can't accept. It is habits like these that cause infections and diseases as grave as skin cancer. 
The flawless skin is a lifelong dream for all the ladies out there. It is excessively advertised since ages, to a point when it has become almost monotonous with brands offering beauty services. A vicious cycle of transformation is what we're trapped in. With so many brands coming up front with beauty products, famous celebrities endorsing them has made it more confusing as to what regime one should follow in order to get the perfect skin that is stereotyped as beautiful for our generation.
The various products and treatments available in the market today may be harsh on your skin. Without realizing their repercussions, we tend to give in to whatever we find attractive. Be it makeup products from high-esteem brands or sheet masks for healthy skin.
Dermatologists have provided us with some skin-benefiting tips to help you rejuvenate those skin cells and help in achieving healthy, beautiful, and fresh skin always. Follow these tips to the T and you shall witness the changes within months. But before this, it is important to understand what degenerates our skin in today's times.
COMMON CAUSES OF UNHEALTHY SKIN
Pollution – The external environment is so polluted these days with the toxic fumes in the air, acid in rain and dirt that it is impossible to expect that it will not damage the skin. It penetrates through the pores and causes blackheads, breakouts and what not! Undeniably, it is the root cause of more than one type of skin disorder.
Excessive Makeup – The wrong makeup, applied in excess quantity without following a healthy skin regime can cause blemishes, dark spots, wrinkles at an early age as well as severe acne. It clogs pores and doesn't allow skin to breathe. Especially if you have oily skin, the makeup will do more harm than good if you're not careful as to what you apply on your skin. There are certain makeup tips every woman should know if they suffer with pre-existing skin disorder, or even if they're rookies into the glam show.
Junk food – It is important to understand that skin is not only impacted by the external environment, but also how healthy you are internally. If you treat your body like a trash bin, it will reflect on your skin. On the other hand, if you try to indulge in starvation in order to get a perfect physique, it will also reflect poorly on your skin, causing sunken eyes, bony structure and no freshness.
Now that we've dug into some of the causes, which are most common for slowing the process of getting healthy skin, there are some tips and inexpensive methods that will help you regain the stretched, clean surface on your skin. Yes! You heard us right. Most of these are inexpensive, at home remedies that don't require you to throw bills or travel great distances to get that flawless glow-up! Let's take a look at some of the dermatologically approved beauty tips.
SKINCARE REMEDIES TO SWEAR BY
CLEANSE YOUR FACE TWICE A DAY –
The myth surrounding the fact that cleansing face too much causes dry skin and wrinkles needs to be clarified and erased for good. It is very important to cleanse your face at least once every single day. Experts say that the impurities stuck on our skin can cause darkness and acne, so it's actually the opposite of what myths we go on hearing. Wash it using a light cleanser which doesn't contain too many chemicals that are harsh on your skin.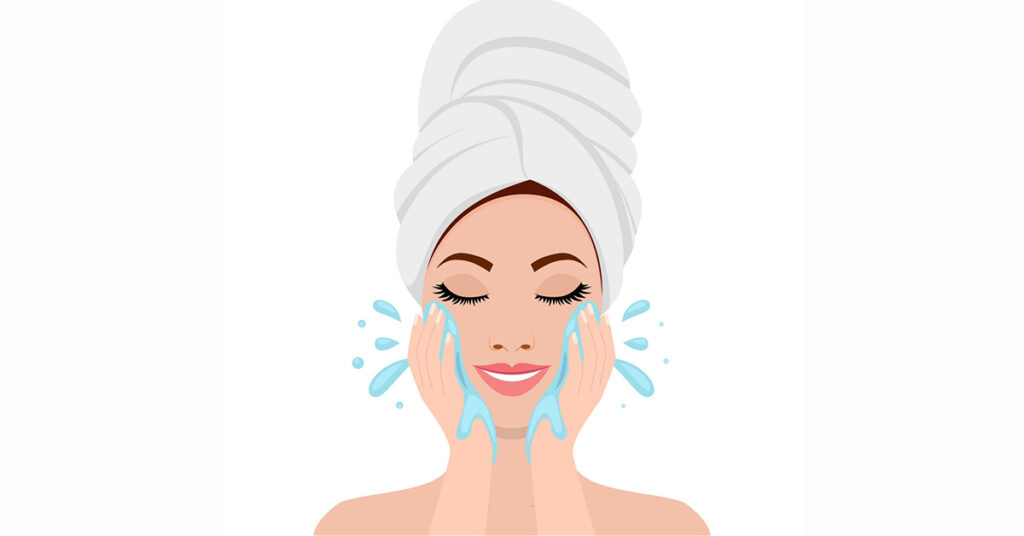 The right way to clean it, for all skin types is as follows-
Wash your face with lukewarm water. This opens the pores and softens the skin in order for dirt to come out easily.
Apply a dash of cleanser on your palm and lather it. Gently rub your palms on your face in circular motion. Be gentle in this action.
Wash your face with normal/cold water to seal the pores shut in order to avoid any dirt going inside again. Lukewarm water won't seal the pores and can lead to blackheads and excess oil from products.
WEAR MINIMAL PRODUCTS –
Make up surely is a great way to reform and transform yourself into someone who feels confident on the inside and the outside. The large array of products that are available on the racks of all brands providing beauty services are downright tempting. However, this temptation may lead to you applying and painting almost another face on yourself if you don't realize the harm in this. You should not let the product sit on you for long hours on a daily basis when you're off to work or college. Wear minimal, hydrating products like toners and moisturizers and a skin correcting, lightweight foundation.
Avoid dark eye shadows, heightened contouring as well as lathered lipstick. It can make your face look older and clogged. These are makeup tips every woman should know.
PROTECT FROM HEAT EXPOSURE –
The sun is a great source of Vitamin D. However, the exposure from the sun can cause the skin to crack or develop scaling skin. Not only this, the heat from fireplaces can cause dryness and suck out the moisture in your skin. Dry skin can crack easily and that is primarily why wrinkles develop at such a young age.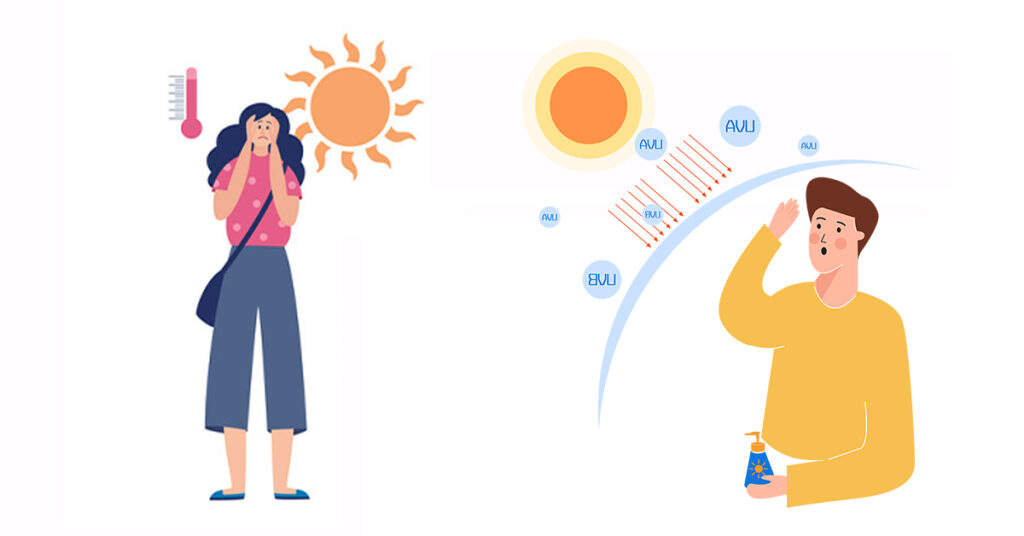 In winters, sitting or sleeping too close to the room heater or electric blanket also has the same effect on the skin. It is important to stay warm but not burn your body of its water content. You may feel the need to drink water every time you wake up if this is the case. It's a signal to stop over-exposing your body to heat and start hydrating it.
MOISTURIZE REGULARLY –
Another myth surrounding moisturizers is that they make your skin oily and cause clogged pores. This is a complete hoax and makes no sense whatsoever. Our skin needs to be prepped twice a day, regularly. This will reduce the dryness and delay breakage and wrinkling around the neck, thighs as well as belly. It cannot sustain the environmental changes without having sufficient nutrition to do so.
One must know their skin type and select a moisturizer accordingly. Check for products with minimal fragrance and maximum SPF to protect your skin when exposed to heat. 
HOME-CARE REGIME –
A skincare regime is a chronological process of using skincare and beauty products to bring out the best on your face. Calling a home-care routine is a deliberate effort to exhibit refreshing candor about home remedies and they're more effective results. Shift to natural homemade pack of flour, turmeric and curd to get an instant glow rather than applying sheet masks for healthy skin and what not! Cultivate the habit of using natural products, prefer organic over synthetic and you see visible difference within days. Follow a regime and keep the following tips in mind –
Wash your face before putting on any product.
Use a toner or rose water to bind the freshness together.
Use sunscreen in the day and night cream before sleeping.
Use homemade mint paste in case of sunken or dark eyes instead of spending hundreds on eye creams.
STAY HYDRATED AT ALL TIMES –
Our bodies are made of 70% water content. It helps in detoxification and removing excess waste from our bodies. Staying hydrated is important for your skin as well. One should drink 7-8 glasses of water every day to maintain a healthy balance of all vitamins and minerals. Drinking water helps the vitamins from your diet reach through the blood in the right places. When the body functions rightly on the inside, it heals and rejuvenates on the outside.
Apart from water, drinking the right beverages is also important. Avoid fizzy drinks and switch to more natural juices without artificial sweeteners. Green juices are beneficial for cleansing your body. Adding vegetables in the same will enhance its effects. 
EATING GOOD FOOD –
Maintaining a healthy diet is important for your skin too. As discussed earlier, eating junk and fatty food can disrupt your metabolism, causing intestines to function improperly. They do not get the minerals that they need to absorb for your organs to remain healthy. Eating a well-proportioned diet having sufficient amounts of carbs (the lesser the better), proteins and healthy fats ensures you remain healthy and strong.
The nutrients from the diet will travel through the blood and ensure that your bodily functions are in order. This will make your skin acne free and reduce the puffiness on your face. Roughage like salads helps in increasing the absorption of nutrients and flax seeds enhance the process. 
EXERCISE EVERYDAY –
Along with the hydration and diet, your body needs to sweat in order to remove excess oil and activate your body for better days. Exercising helps in increasing blood flow and that means the cells in your skin get more nutrients through blood, which increases glow on skin. Staying active will reduce fat and increase metabolism. This will also reduce chances of breakouts or acne as well as stretch marks.
Wear breathable clothes during exercise. Prep your skin after the workout. You can also apply sheet masks for healthy skin to increase moisture after sweat drains out essential oils. 
CLEAN MAKEUP PRODUCTS –
You must be using brushes and beauty blenders on a daily basis for applying makeup products on your skin. However, dirty makeup applicators will lead to cracked makeup as well as infectious diseases after clogging your pores. The makeup that sits on these blenders and brushes will attract dirt and then applying them on your skin will be even worse. Clean them with soap and let them dry before you use them for application of makeup products. These are makeup tips every woman should know if they want better, healthier skin.
SLEEP TIDY –
While most of us have become night owls, it is important to understand that a good night's sleep will benefit us all in so many ways. Sleeping for 6-7 hours decreases the time you'd lie awake to overthink and stress out. It will reduce puffiness and sunken eyes, cleans your body mentally and physically and you shall see the results for yourself! Drinking green tea or herbal tea before sleeping would also strengthen your metabolism.
Follow the tips righteously and regularly if you want healthy skin too!