Moving to a new home is always exciting and enjoyable. However, if you intend to migrate during the COVID-19 pandemic, you must exercise extreme caution to prevent the infection from spreading. From sanitizing potential touchpoints to adhering to social distancing guidelines, take all appropriate precautions on the day of the transfer and proceed with caution to ensure a smooth and stress-free transition.
Following the outbreak of the Covid-19 pandemic, Prime Minister Narendra Modi declared a state of emergency, which hit businesses across the country hard. According to some figures, up to 10 million trucks were brought to a halt. Trucks carrying vital goods were among those affected, leaving people around the country searching for supplies.
Movers and packers is another business that was seriously affected as a result of this. In fact, during the first few months of the lockout, the sector's activities almost came to a halt, only to pick up again in the months following August.
As the pandemic-induced lockdown began to have an effect on the ground, many people lost their jobs or were forced to work for a lower wage.
Millions of people who were living in rented housing decided it was best to return home, and this would not have been possible without the players in the movers and packers industry, which remains one of the most dispersed and unorganised industries. Experts also agree that the 'Work from Home' movement fuelled the relocation industry during this period.
The task at hand was for the relocation companies to rethink their business models in light of the current situation, with technology playing a key role. "The fear of the pandemic was such that my family did not even allow me to visit the offices of different movers & packers so that I could bag the best deal," Siddhartha Chaturvedi, a 30-year-old IT professional in Delhi who moved to his hometown in Jharkhand during this time, said. The strong order was to "do all you can to stop going out, even if it means paying more."
"However, the situation did not allow me to pay an unreasonable sum, and it was also difficult for me to trust someone for the job because I would ultimately be handing over all of my movable assets to whoever I chose," he added.
Siddhartha discovered a few movers and packers had ventured online and he could get the required services at a reasonable price with the click of a mouse by some of the most known players in the otherwise dispersed sector after deliberating for a few weeks. This development necessitated the segment's players arming themselves with cutting-edge technology and implementing processes that would enable customers to trust them.
Shift Freight, a groundbreaking movers and packers aggregator that debuted just before the Covid-19 pandemic, was one of the first to do so. "The Covid-19 pandemic adversely impacted majority of industries, including the logistics industry," Shift Freight co-founder Avinash Raghav said when asked about the difficulties they faced and how they turned them into an opportunity.
There was a massive labour vacuum in this industry as a result of the lockdown and panic. Because of the labour shortage, the cost of travelling increased dramatically, affecting both customers and service providers."
"However, like other industries, we fought back and restructured our working practises. We have seen the pain of movers and packers as we have evolved as one of the fastest rising marketplaces. We were among the first to provide our shift partners with a full PPE kit at no cost.
Before and after the transfer, they were advised to sanitize the cars. Consumers gained trust as a result of our and others' actions. Contact-less or minimal-contact movement is now in demand, and technology is playing an important role," he said.
To provide a price estimate for the transportation of products, the major players in the movers and packers segment have also replaced at-home surveys with virtual surveys. Those who followed procedures like social distancing and sanitization were able to gain the confidence of their customers, while others struggled.
Sanitation of trucks and other vehicles, workers wearing masks and gloves, and not using discarded moving boxes were just a few of the simple improvements that movers and packers made in response to the new circumstances. To top it off, they had to pay for a storage facility where the goods could be securely stored if the shipment were stuck due to an accidental lockdown or curfew-like scenario.
Relocation facilities for Covid triggered jobs from home strokes
Work from home (WFH) policies and the preference for owned homes following the Covid outbreak are helping home relocation companies gain momentum. Employees are relocating to their hometowns to take advantage of the modern WFH community and save money on rent.
CONSERVATION IN A CREATIVE MANNER
When waste triumphs over fashion
To ease the enforcement burden and encourage WFH and 'Work from Anywhere,' the government recently issued guidelines to ease regulations for Business Process Outsourcing, IT-Enabled Service Providers, and KPOs (Knowledge Process Outsourcing).
Segment that is well-organized
Though there was little activity during the initial time of the lockdown, Anjani Kumar Agarwal, CEO of Agarwal Packers and Movers, said the real action began in August with the easing of the lockdown, with WFH driving relocation business in the last three months. During the pandemic, the need for hygiene and safety measures has shifted some relocation businesses from unorganised to organised players with pre-defined safety measures and audits, he said.
Packers and movers are now concentrating on storage options, in which household goods and other belongings are safely stored in warehouses for a set period of time at a low rental cost. "In the last few months, we've seen a significant rise in the use of storage solutions. Some people are returning to their hometowns, which is driving up demand for storage," he said.
In fact, he claims that storage solution use has increased by 25% in the last few months among banking and defence, IteS, and public sector customers. To meet the rising demand, Packers and Movers have developed specially built vehicles that can transport cars, pets, plants, and other household products all at once.
Tips to be followed while Shifting
1. Protective Zones
Before you move, make sure the area you're moving to isn't in a containment zone or has a containment zone that's too nearby. This can be a problem while travelling, as well as a health hazard. Before relocating, do your homework and learn about the case density in the place you're considering. Just fly to places where it is relatively safer and proper precautions are being taken.
2. Make the switch to digital
Try remotely performing the majority of the procedures. Take a virtual tour of the facility and do most of the paperwork online. Avoid having too many face-to-face interactions and conduct the majority of your meetings over the internet. Remove any questions you may have and request that all terms and conditions be submitted to you in digital form. For any transaction, choose digital payment methods over cash. This won't be a difficult job thanks to technology, and it will make the move-in phase faster and safer.
3. Thoroughly disinfect
Make sure the new location you're going to is properly disinfected and that adequate sanitation precautions are taken. Always do your homework on the city you're going to and make sure they conform to sanitation regulations. Move to a safe place like Zolo, where rooms are sanitised by professional workers and proper sanitation procedures are followed. Since your wellbeing is the most important thing, don't skimp on the hygiene factor of the location you're heading to.
4. Choose a furnished house
It is preferable to move into pre-furnished homes rather than having to deal with the hassle of moving your belongings. This reduces the chance of coming into contact with a large number of people and also makes traveling easier.  Packers and Movers services are one such location where you can find fully furnished homes with all of the requisite appliances. Wifi, TV, washing machine, refrigerator, and other facilities are available. But you'll have a nice place to stay and won't have to think about anything.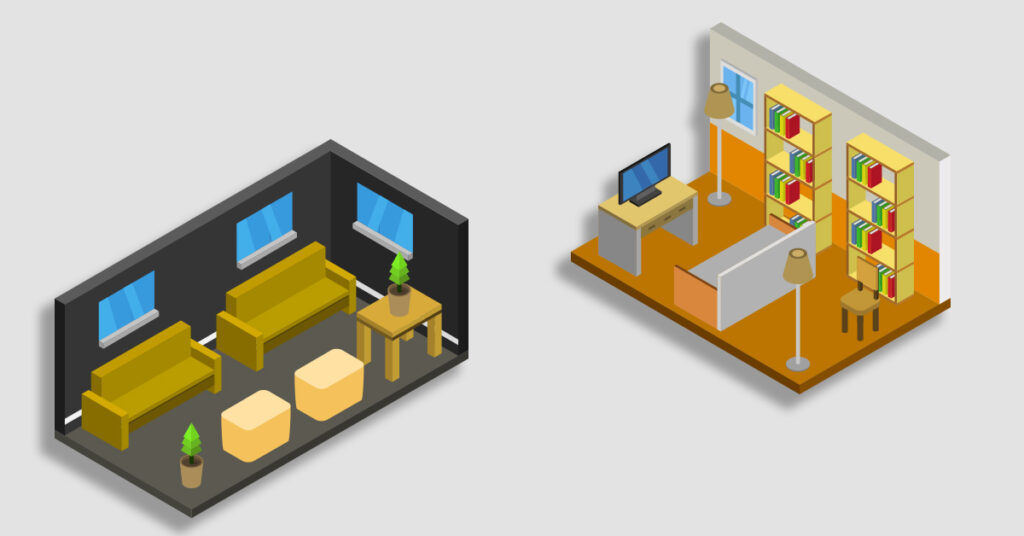 5. Packing and Moving Services
If you need to transport large items or furniture, or if you have a lot of things to carry, you can need to hire movers and packers. Although it is not the best option if you must address the safety measures they have put in place. Inquire about the safety policies that their employees adhere to. Also, after your products have been transferred to your new place, disinfect them thoroughly. It is also important to look after the modes of transportation in logistics.
6. Load and unpack independently
Attempt to pack your belongings on your own. It is not the best to have someone with you. This is why it is preferable to move into a fully furnished house, as you would not have to pack nearly as much. Try to do it on your own without involving too many people. And after you've arrived at your destination, unpack your belongings yourself. This will prevent any pollution and ensure that everything is clean and safe.
7. Bring your own container
Attempt to pack everything in boxes and bags that you already own. If you require more, purchase new ones. During this time, avoid borrowing packaging. As much packaging as you can find in your home, try to use it. This means that the packaging is secure and hasn't come into contact with anything else. This is a simple protection and hygiene precaution that is crucial when relocating.
8. Personal safety precautions
Another important thing to consider when relocating is to take the necessary precautions for your own safety. Wearing masks, gloves, sanitising, and washing your hands regularly are all part of this. After you've moved, wash your clothing. After coming home, immediately change your clothes and wash them, as well as clean your footwear. Don't forget to wipe your phone's screen and any other gadgets you're carrying.
9. When it comes to recruiting providers, be careful
Everything has changed since the COVID-19 outbreak. Since the virus can easily spread from a contaminated surface or an infected individual, it's critical to know how well the logistics services you employ are prepared. Inquire about their sanitization procedures and precautions taken during the logistics transition by calling them.
Inquire, for example, whether the professionals would carry their masks, gloves, boots, and sanitization kits on the day of the move, as well as how many people will be included in the process. Following the global epidemic, many communities have reduced the number of logistics professionals allowed to enter from 6-7 to just 3-4. According to Saminder Singh, Proprietor, United Packers, and Movers, written approval from the Resident Association Welfare (RWA) is also required.
10. A virtual poll
In the pre-COVID-19 age, a service provider would perform a house tour in person; however, this is no longer the case. Since the government wants people to remain indoors and preserve social distance, a video call is the best way to perform a home survey and discuss the estimate. Furthermore, it reduces the surveyor's travel time and costs. Digital visits have also increased in popularity in recent years as it eliminates physical contact and the risk of infection, according to Singh.
Furthermore, for advance payments and future bills, automated forms of money transfer are preferred because they reduce cash handling. Also, if you decide to postpone the relocation, go over the cancellation policy in detail.
11. Maintain a six-foot separation
Maintain a six-foot separation from the workers during the packing, loading, and unloading processes. Throughout the changing process, wear masks, gloves, and face shields, and wash your hands frequently. If there are children or others who are vulnerable in the building, keep them in a separate space. Often, make sure the building is well-ventilated. Adjust the temperature of the air conditioner or keep the windows and doors open.
12. Before you begin unpacking, clean your new house
In addition to washing and disinfecting your furniture and other possessions, place all packing materials in a separate area to prevent human touch. Coronavirus can survive for up to 24 hours on cardboard and 72 hours on plastic, according to the Centres for Disease Control and Prevention (CDC). As a consequence, it's important to properly dispose of cardboard boxes and plastics. If possible, leave them untouched for three days on the terrace/balcony or in the open space before dumping.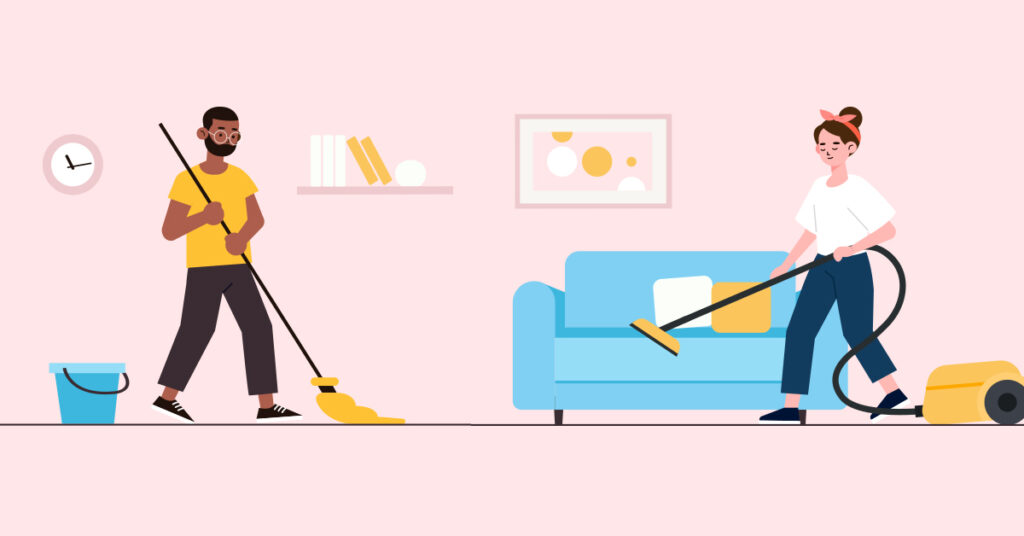 Spray disinfectant in every nook and cranny of the house before putting the furniture and other décor pieces in place. Hiring skilled cleaners to assist you with the move-in cleaning tasks is a great timesaving and sanitization solution. Given the new COVID-19 restrictions and safety guidelines, it is recommended that you obey the locally issued mandates and behave in compliance with your area's restriction regulations.
CONCLUSION
Packers and Movers always play a major role while shifting homes. They involve transportation services and packaging services. It is a difficult task to do in a pandemic situation, but the packers and movers are doing a great job. You can reach out at any time. Happy moving!